Frequently asked questions about Su-Por® surgical implants.
The following are frequently asked questions we get. But the most frequent question we get about Su-Por is what is Su-Por? It's a porous linear high-density polyethylene material that is used to help surgeons meet their patients' needs for surgical implants. But there's a lot more to learn!
How are Su-Por Surgical Implants different from others?
While both implants are made from the same material (porous linear high-density polyethylene (HDPE)) and are used for the same type of surgeries, Su-Por Surgical Implants are manufactured using proprietary technology that, according to surgeon feedback, yields a higher quality result. In addition, the Poriferous design and production team has over 70 years of combined experience working with porous polyethylene (HDPE) implants. This experience exceeds that of all other porous polyethylene manufacturers in the world.
Why are Su-Por Surgical Implants more flexible than other surgical implants?
The key reasons why Su-Por Surgical Implants are more flexible than other surgical Implants are the proprietary processes, the consistency with which the implants are made, and the key design elements. Based on the experience of members of the Poriferous team, formerly involved in the manufacture of other implants, and feedback from surgeons who have used both Su-Por and other implants, Su-Por Surgical Implants are more flexible and less likely to break when manipulated.
How long have Su-Por Implants been used?
While polyethylene has been used as an implant material since the 1940's, and porous polyethylene has been used since the mid 1970's, Su-Por was introduced to market in 2014.
At what age can reconstruction be performed with Su-Por Surgical Implants?
Successful implantation has been documented from ages <1 year to 97 years old.
Have there been any reported issues with rejections or complications with Su-Por Implants?
Su-Por patients experience low complication rates. For more information on the clinical performance of Su-Por see the clinical data document.
What makes Poriferous unique?
Poriferous is unique in that everything is performed in-house in one facility. This allows an unprecedented turn-around of Patient-Specific Implants that can be delivered in as little as eight business days.
How did Poriferous get their name?
The term "poriferous" means to bear or have pores. In addition to describing the Su-Por line of products, the name is also associated with the poriferans which are commonly known as sponges, a very early implant material.
Please contact us if you have any additional questions. We look forward to assisting you soon.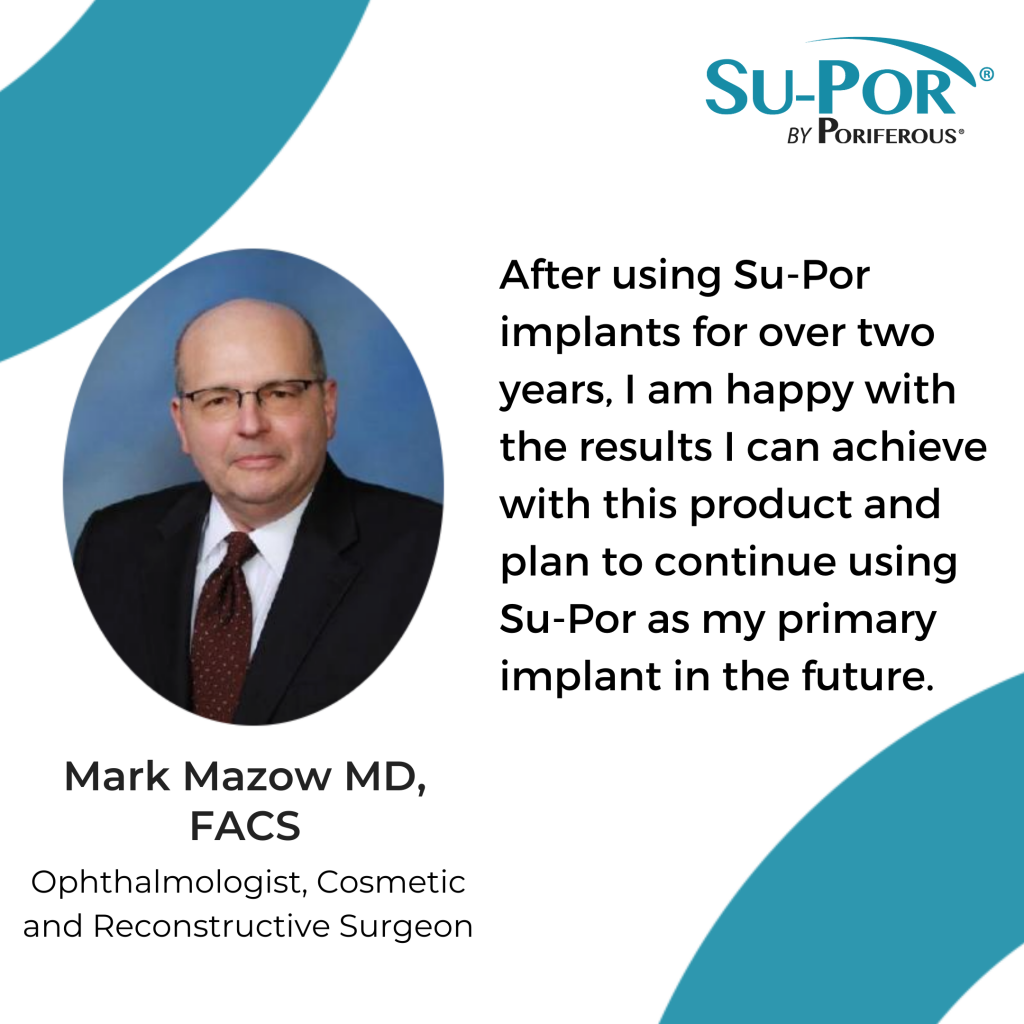 See more reviews on our Su-Por products.
See our full product catalog.